Salt Lake City, Utah-US, Nov. 11-19, 2016

STEM-Trek Director Elizabeth Leake coordinated a multinational team of high performance computing (HPC) trainers and facilitators to plan an SC16 co-located training exercise for campus technology facilitators who support education and research applications for HPC in rural, resource-constrained regions of the U.S. and sub-Saharan Africa.
More than 50 applications were received. Sixteen delegates (eight American, and eight African) were selected by a panel of 12 (international) reviewers.
The OCG cohort participated in daily workshops, and attended the SC16 conference; travel support and SC registration were provided by the project. U.S. delegates were XSEDE Campus champions from eight states, and African delegates represented eight Southern African Development Community (SADC) member-states, and Nigeria.
"On Common Ground" Organizing Committee:
Dana Brunson, Oklahoma State University (XSEDE, Campus Champion Liaison);
Elizabeth Leake, STEM-Trek Nonprofit (Chair and Facilitator);
Henry Neeman, University of Oklahoma (XSEDE Campus Champion, Training Coordinator).
With assistance from:
Bryan Johnston, South African Centre for HPC (SADC Trainer, Cape Town);
Nick Thorne, Texas Advanced Computing Center (Before April 2016 Nick was a lead trainer at the South African CHPC);
Alana Romanella, Virginia Tech (XSEDE/STEM-Trek);
And six additional volunteer reviewers (thank you!).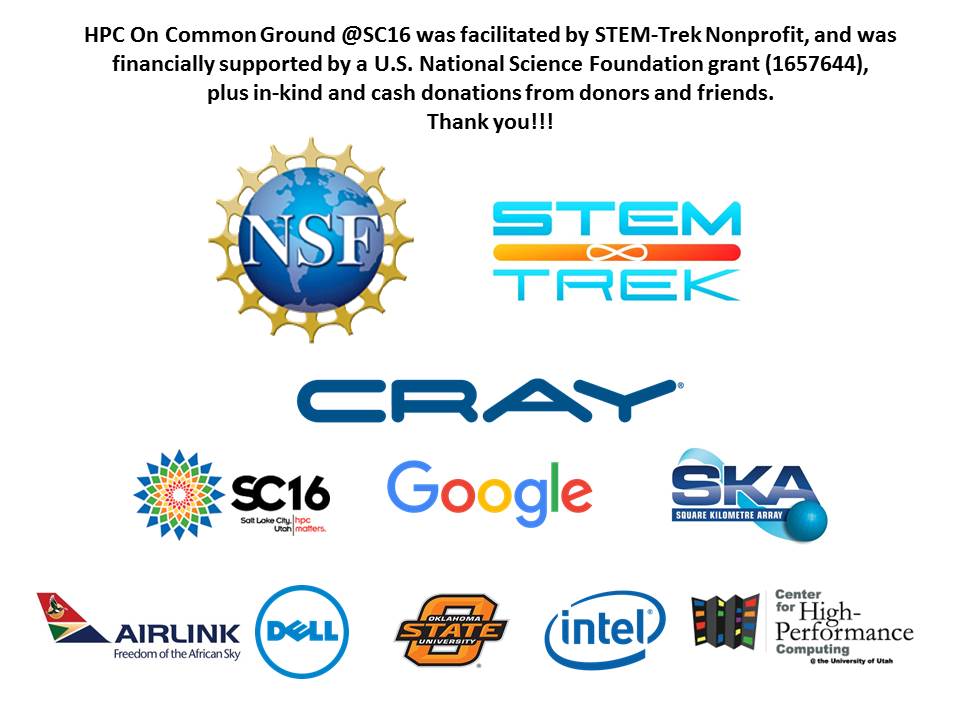 About SC16

The supercomputing conference is an annual international activity for those who are interested in high performance computing, networking, storage and analysis. It draws more than 10,000 attendees from around the world! It's held in US locations each November, and this year it's in Salt Lake City, Utah, November 13-18.
According to the SC16 web site, the conference "will bring together the international supercomputing community—a gathering of scientists, engineers, researchers, educators, programmers, system administrators and developers…its technical program will include presentations, papers, informative tutorials, timely research posters and Birds-of-a-Feather sessions. A 515,000 sq.ft. exhibition hall will feature the latest technologies and accomplishments from the world's leading vendors, research organizations and universities. SC16 will be the very first opportunity to learn about many of the technologies that will shape the future of large-scale technical computing and data-driven science."
For that week, SCinet, an ultra high-capacity network will be built to "accommodate revolutionary supercomputing and cloud computing applications and experiments that are a hallmark for SC," according to the SCinet web site.
The conference also sponsors HPC for Undergrads, Student Volunteer and Mentor-Protégé programs. It's a great place for students to meet industry icons and professionals who work in fields they might be considering. With a week full of activities, student-attendees can easily expand professional networks, and meet potential collaborators, mentors and employers.