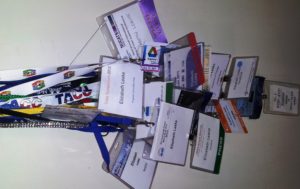 Check out our blog, latest activities and other news from the field! 
Past Activities

URISC@SC17, Nov. 11-18, 2017 Denver, Colorado-US.
HPC On Common Ground @SC16, Nov. 11-19, 2016 in Salt Lake City, Utah-US.
Presentations and Press:
The First International Conference on the Internet, Cyber Security, and Information Systems in Gaborone, Botswana May 18-20, 2016. 
Advancing Research Computing on Campuses (ARCC) 2016 meeting, National Center for Supercomputing Applications. Presentation: ARCC-March 2016
PAEPARD, July 14, 2015. The Platform for African – European Partnership in Agricultural Research for Development (Phase II) is to build joint African-European multi-stakeholder partnerships in agricultural research for development.
"It's Harvey Time" Dec. 14, 2015: Christine Harvey gave us a shout-out re: the Women in HPC feature. Thanks, Christine!
StartupHPC 2014 in New Orleans, as featured in iSGTW (now ScienceNode)
Presentation: StartupHPC-Leake-2014
University of Illinois 2013-14 Alumni News
STEM-Trek eScience Friendraiser, 2012
STEM-Trek Initial Presentation, 2012: STEM-Trek-LOOP
EU–US HPC Summer School in South Lake Tahoe, 2011.
Presentation and student testimonials: EU-US HPC Summer School-FINAL