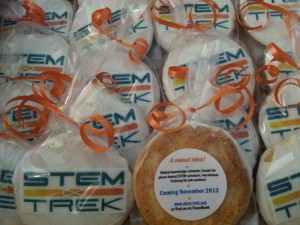 STEM-Trek operates, for the most part, through the volunteer efforts of its officers, advisory board, mentors, and friends. To date, most travel has been funded through point donations. Although we have very little cash, we are wealthy beyond measure in terms of human and social capital! We also have great treats, but cookies won't keep the lights on!
There are financial hurdles in our future that require money. Also, we like to give supported scholars pocket change to help pay for ground transportation, assistance with meals, tips, etc.
Please donate today so we can continue to offer STEM-Trek's wonderful services: 
http://www.stem-trek.org/donate/
(Save the receipt and submit it with your taxes once our nonprofit status is granted).